Types: Fraxel (re:store dual)™, Fraxel Clear and Brilliant™, Laser Genesis
Non-ablative lasers stimulate collagen growth in the skin resulting in a healthy glow and smoother texture. The laser energy produces a wound healing response without injuring the skin surface, allowing for a faster recovery time, typically 1-3 days. A series of non-ablative laser treatments can improve the appearance of fine lines, mottled pigmentation, melasma, acne scars, surgical scars, stretch marks and enlarged pores.
Here are the answers to some Frequently Asked Questions about Fraxel.
In the video below from dailyglow.com, Dr. Chapas explains the benefits of fractionated lasers such as Fraxel (re:store dual) and Clear and Brilliant:
Union Square Laser Dermatology was one of the first practices in New York to offer Clear + Brilliant. It is the first device of its class that targets early signs of aging such as uneven pigmentation, fine lines and textural changes. Clear + Brilliant works by creating millions of microscopic treatment zones of laser energy in your skin to replace damaged skin with healthy, younger looking tissue. A series of 4 to 6 treatments can be performed on the face, neck and hands, every 2 weeks. The treatments are well tolerated and typically resolve with mild redness lasting a few hours. Dr. Chapas demonstrated this device on the Dr. Oz Show in October 2011.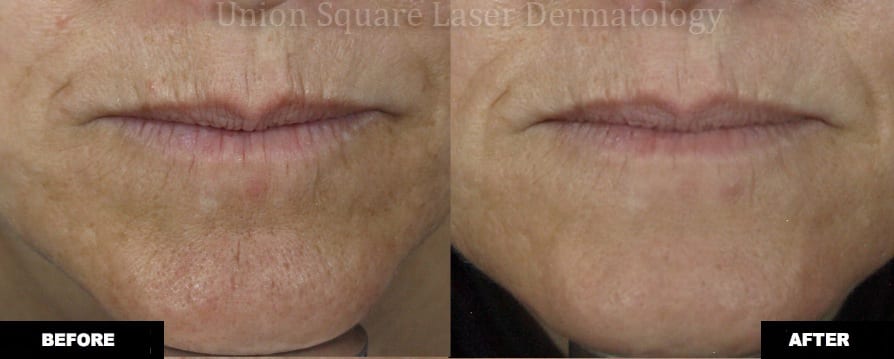 In the video below, Dr. Chapas demonstrates the use of the non-ablative Fraxel (restore dual)™ laser to treat sunspots on the Rachael Ray show.